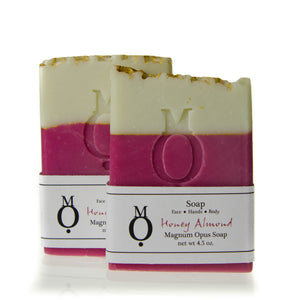 Honey Almond - Handcrafted Soap
Regular price
Sale price
$ 6.00
---
The Honey-Almond bar of soap is everything that you could ask for. The base is our moisturizing formula with a heap of kaolin clay. It is beautiful - elegant colors, a rustic honeycomb textured top and a delicate gold mica line. It is intoxicating. The top is richly scented with the sticky, sweet scent of honey.  The bottom is bitter almond, a misnomer, reminiscent of maraschino cherries and Marzipan. Truly a favorite.
Magnum Opus Soap is handcrafted, old-fashioned soap. It is made using a technique called Cold Process in small batches. Once cut, it is cured for a minimum of thirty days to ensure a hard bar of mild soap. Made with our specially formulated recipe, a result of six months of research and development, and the highest quality oils and ingredients. It has the most creamy, silky lather and cleans without stripping your skin of its natural protective oils. As they say, the secret is in the sauce... or in this case the suds.
To say that we pay attention to details is an understatement. Every bar is lovingly cut, trimmed, stamped, labeled and wrapped by hand.  Because Magnum Opus Soap is handcrafted there may be slight imperfections which only adds to the beauty of the craft.
Make it last.  We recommend that you keep your soap in a non-porous dish on the counter rather than in the shower. It will last much longer. If any water collects in the dish simply place your hand over the soap and pour off the excess water. In the shower, it just never quite dries out and becomes gooey. The next time you shower the soft, gooey area dissolves and your beautiful soap disappear too quickly. 
Ingredients:
olive oil
sustainable palm
rice bran oil
grapeseed oil

castor oil

fragrance
kaolin clay
mica
Without:
parabens

phthalates

animal testing
Weight: our soaps are labeled as weighing 4.5 oz. but typically weigh in closer to 4.75 oz. 
Packaging: cigar band label, tucked in a glassine bag for minimal packaging to go in the trash. A sweet little gift to unwrap for yourself.