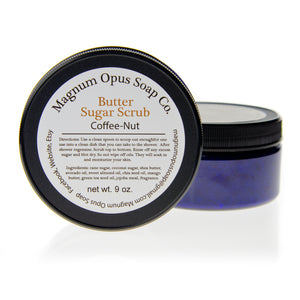 Butter Sugar Scrub
Regular price
Sale price
$ 18.00
---
Ever look in the mirror and think your skin just looks blah, dull, ashy? You need a scrub and we've got you covered...so to say. You need a Butter Sugar Scrub to exfoliate, polish and invigorate your skin. And it feels soooo good!
More than a little deceptive, our Butter Sugar Scrubs look like wet sand at first glance. But don't be deceived. The sugars are coated with luxurious oils and butters. Avocado oil and sweet almond oil, mango butter and shea butter, chia seed oil and green tea seed oil. Add some jojoba meal for extra exfoliating. So decadent! When you scoop a little onto your wet skin and scrub, the butters dissolve leaving your skin glistening and drenched in moisturizing goodness. 
Butter Sugar scrubs are the perfect way to exfoliate dead skin and moisturizer at the same time.
Instructions:
In the shower. Scoop some of the scrub out of the jar with a clean, dry spoon and place it in a small dish that you can take to the shower. Do not place wet fingers in your jar of scrub. After your usual routine turn off the water. Start with a large pinch of scrub and begin working your way from the top to the bottom of your body. We like to scrub until most of the sugar has dissolved. Turn on the water and rinse any excess sugar off. You are going to look very oily. It's a good thing! This is all the delicious oils and butters that are going to moisturize you. When you get out of the shower very gently blot the water but don't towel off the oils. They will absorb after a few minutes. 
At the kitchen sink. This is the best treat. Keep a jar of scrub, like Coffee-Nut or Pink Grapefruit, next to the kitchen sink. At the end of the night, after finishing the kitchen, treat your hands and forearms to a sugar scrub instead of lotion. Curl up with your favorite cup of tea and enjoy how good your arms smell and feel.
Scents:
Coffee-Nut is for the coffee lover. One sniff and you will be reminded of a creamy hazelnut latte loaded with coffee grounds.
Jamaica-Me-Crazy is our best-selling Butter Sugar Scrub. The scent is a mouth-watering array of coconut, pineapple, passion fruit and other tropical fruits. Close your eyes and imagine a tall glass of tropical yumminess on the beach.
Kumquat is a crisp, bright scent with the soft floral of the blossoms. Across all of our product lines, kumquat is our best selling scent.
Lavender is scented with lavender essential oil and it contains lavender buds. As you scrub they break apart and release their essence. 
Pink Grapefruit is a new favorite! Sweet and tangy, bright and happy! Think pink!
Sweetie Tahiti is a sweet, fruity, vanilla blend 
Ingredients:
cane sugar - medium and fine
shea butter
avocado oil
sweet almond oil
mango butter
green tea seed oil
chia seed oil 
fragrance
jojoba meal
Weight: 8 oz.
Packaging: PET plastic jar, recyclable